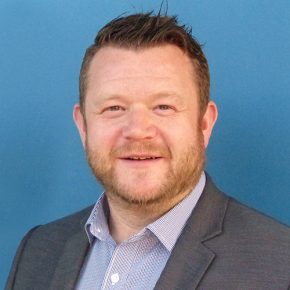 Lee O'Connell
New Business Consultant
Lee moved to NZ from the UK almost 5 years ago wanting a better life for himself and decided to settle on the South Island. Having worked in the financial services in the UK for 13 years and owning his own mortgage and insurance brokerage, Lee was able to gain employment through several of NZ's prominent banks and brokerages to gain experience of the NZ market and especially Cantabrians!
Lee first came across NZ Home loans when he moved to NZ and immediately knew it was the best solution for anyone wanting to be in control of their money and getting debt free faster. The whole concept of the company was exciting and fresh and it was then he decided he had to be a part of it. Helping everyone he can to have financial freedom is his passion and  he enjoys making the difference to people's lives on a day to day basis.
Working for Brad & Nic Yates as well as Simon Morris, all of whom are successful business owners, he has the experience and drive behind him to succeed his role within NZHL.
Aside from this, you may find Lee on stage around NZ playing with his band or on occasion, falling from the sky as he is a qualified skydiver and scuba diver. Since moving to NZ Lee has also become a keen rugby fan and plays for several rugby clubs inc Belfast & Oxford along with two Touch rugby teams.
Lee enjoys life by living to his motto – live life to the max…you only get one shot!
A disclosure statement is available on request at no charge by emailing me.
Physical Address:
45 Mandeville Street, Riccarton, Christchurch 8011
In our customers' words

"A huge thank you to Lee who has been an absolute pleasure to work with. After thinking we were at least another year away from purchasing less then a few month later we're now proud first home owners! Even after hitting a few hurdles along the way he still went…" Read More

"A huge thank you to Lee who has been an absolute pleasure to work with. After thinking we were at least another year away from purchasing less then a few month later we're now proud first home owners! Even after hitting a few hurdles along the way he still went above and beyond to make sure we got into our home. No questions were ever too silly and he made us feel comfortable through the whole process. Thanks again Lee for all your hard work."

Adrian & Katarina Canterbury

"Lee at NZ Home Loans has been fantastic right from the start of our journey to buy our own home. He made the effort to come to see us at our home after work hours which was fantastic as we have two young children. He explained everything extremely well and…" Read More

"Lee at NZ Home Loans has been fantastic right from the start of our journey to buy our own home. He made the effort to come to see us at our home after work hours which was fantastic as we have two young children. He explained everything extremely well and answered all of our questions. The communication and advice we have received from Lee during our purchase has made this process so much easier than we thought it would be. We would highly recommend Lee and NZ Home Loans to anyone buying for the first time or looking at re-financing their current property."

Phillipa Canterbury

"My wife and I decided to head to the CHCH Home Show a few months back to fill in the day. While there we came across a NZHL stand that had a sign saying "Refinancing your Home Loan" We both kept walking and started discussing our state of play and…" Read More

"My wife and I decided to head to the CHCH Home Show a few months back to fill in the day. While there we came across a NZHL stand that had a sign saying "Refinancing your Home Loan" We both kept walking and started discussing our state of play and that we were really treading water with our current bank set up and it wouldn't hurt to see what advice and structure they have to offer. We had a discussion on what our current set up was and what we were looking for in flexibility of our finances. We had no expectations. This proved to be a master stroke as what happened over the next 4 weeks was meeting with an honest down to earth person from NZHL (LEE) who came to our house and we had a sit down talk. From there, Lee went away and drafted up a proposal to suit our needs. We found Lee to be an absolute pleasure to deal with. He was not judgemental of our situation. Never forced us into anything we were not comfortable with and explained things in simple terms that we both could relate to. We have now been with NZHL for 8 weeks and already we are seeing the benefits financially. My wife and I are finally feeling like we have control of our finances and the added bonus is we are paying less a fortnight and will pay off our mortgage 6 years quicker than that of our previous bank loan set up. I strongly advise if you feel like you are in a stalemate with your finances like we were, to give Lee a call. It doesn't cost anything for a discussion that could save you money in the long run. He might even buy you a coffee."

Steve Mckey Canterbury

"We decided to see what NZHL was all about and got in contact with Lee, we were blown away with his knowledge about mortgages & money. Nothing was a problem for Lee and he answered all of our question and made us feel at ease. He set us up with…" Read More

"We decided to see what NZHL was all about and got in contact with Lee, we were blown away with his knowledge about mortgages & money. Nothing was a problem for Lee and he answered all of our question and made us feel at ease. He set us up with our mortgages and has taught us the NZHL way that works for us as a family. He has regularly contacted us to make sure everything is all good and if we need any further assistance. His sense of humour and zest for life made all of this a lot more fun than a "typical suit" We would have no hesitation in recommending Lee and NZHL to anyone."

Lisa Durney Canterbury