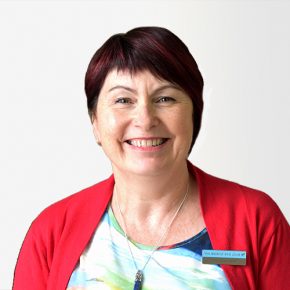 Lynlie Clapperton
Business Owner
Lynlie established the Napier franchise in 2013, after working as a New Business Consultant with New Zealand Home Loans since 2011. Lynlie has extensive experience in the finance industry working for many years as a credit manager, both in New Zealand and the UK. Arriving back in NZ at the end of 1989, with an economic crises unfolding, credit management skills were in demand and she took on a challenging role as credit manager for a large national building supplies company. Later moving to the Hawkes Bay with her young family. Since arriving in Hawkes Bay over 20 years ago, she worked in a variety of roles with the local District Health Board, and then took on position of National administrator for a third party ACC provider, facilitating health testing and reporting.
Ready for a change, Lynlie was introduced and recommended to New Zealand Home Loans through a friend who had recently become a client. What Lynlie saw had a significant impact on her future, and it didn't take much persuasion for her to join the NZHL team. Lynlie knows that she has made the right career choice, and on reflection, sees that her past experiences have provided her with an in-depth knowledge and insight, understanding the pressure that financial stress can cause.  She is passionate about sharing that know-how, educating and empowering her clients to create a life they love.
As a builder's daughter, she is a keen renovator and property investor herself. She loves learning and sees life as a continual opportunity to learn and grow.  She enjoys keeping fit and healthy, attending a local gym, biking and walking her dog. Her two children, she says, have helped keep her grounded and 'real'.  Together, with engineer husband Brent, they are currently working on a "big" project – turning their old villa into a beautiful home – well,  that's the intention!
A disclosure statement is available on request at no charge by emailing me.
Physical Address:
16 Carlyle Street, Napier South, Napier 4110
In our customers' words

"Thank you for your support and helping us in the process. You are amazing at what you do and have been a great help to us. We will be in touch. God bless you."

"Thank you for your support and helping us in the process. You are amazing at what you do and have been a great help to us. We will be in touch. God bless you."

A.J and Sanel Hawke's Bay

"Lynlie Stairmand is our consultant. She has gone out of her way to meet us at our home after hours (we have two small children) and has been very patient with us when we've been tired at the end of a long day! Although we are newly signed up we…" Read More

"Lynlie Stairmand is our consultant. She has gone out of her way to meet us at our home after hours (we have two small children) and has been very patient with us when we've been tired at the end of a long day! Although we are newly signed up we are now much more focused on looking at paying our mortgage off early thanks to Lynlie and the debtnav program which is awesome! We never would have been able to go to my sister-in-laws wedding in Fiji without New Zealand Home Loans, thanks heaps!"

Anna W Hawke's Bay

"Changing to NZHL and working with Lynlie has meant we are now able to save and achieve the goals we have always dreamt of. We now only have 6 years left to pay on our mortgage – not 15-20 years as before. We have been with NZHL for more than…" Read More

"Changing to NZHL and working with Lynlie has meant we are now able to save and achieve the goals we have always dreamt of. We now only have 6 years left to pay on our mortgage – not 15-20 years as before. We have been with NZHL for more than two years and would never return to a 'normal' bank. Thank you Lynlie."

Kylie & Brendan Hawke's Bay

"We love nzhl banking. It really is fantastic. Debtnav is great. We have booked a family trip to Fiji over new year for our big birthdays!! 40 n 50. All good but I detested taking the payment from our account and seeing the amount drop!!! Lol"

"We love nzhl banking. It really is fantastic. Debtnav is great. We have booked a family trip to Fiji over new year for our big birthdays!! 40 n 50. All good but I detested taking the payment from our account and seeing the amount drop!!! Lol"

Claire Hawke's Bay

"We never dreamt that at our age (early 50s ) that we could be first home buyers. We have been in our home since 2013 and changed over to NZHL in 2016. Through DebtNav we are able to forecast when we will be debt free, 2021 woop woop. Give NZHL…" Read More

"We never dreamt that at our age (early 50s ) that we could be first home buyers. We have been in our home since 2013 and changed over to NZHL in 2016. Through DebtNav we are able to forecast when we will be debt free, 2021 woop woop. Give NZHL a go, what have you got to lose, other than to be debt free like us in 8 years compared to the 20 years given by our local bank! (and we still do the things we love in life, like holidays and we've even purchased 3 vehicles in our time with NZHL) Much thanks and love to Lynlie who has supported and guided us through this awesome journey."

Phylliss & Mo Hawke's Bay

"I just wanted to say another big thank you for your time you've once again invested in our financial matters on Wednesday. I always find myself coming away from it inspired and motivated to do even better with managing our money and future."

"I just wanted to say another big thank you for your time you've once again invested in our financial matters on Wednesday. I always find myself coming away from it inspired and motivated to do even better with managing our money and future."

Tania Hawke's Bay