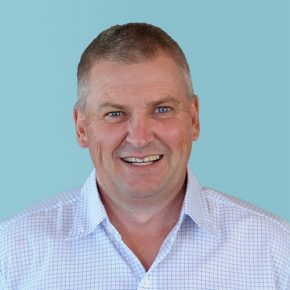 Shayne Massey
Business Owner
Shayne has been part of the New Zealand Home Loans organisation since 1998. He owned the Thames office but sold that in 2004 to move to beautiful Taupo for the lifestyle choices here. He founded the local office in 2004. For Shayne, New Zealand Home Loans has the tools and the backup to help New Zealanders get their debt loading under control and their lives sorted.
Living in Taupo allows Shayne to indulge in his passions; kayaking on the lake, paddle boarding, hiking, cycling and training for some of the great events Taupo has to offer. He and wife Susan love hosting visitors to Taupo and walking the family dog, Seth. They also have two adult daughters; one resides in Taupo and the other is traveling.
A disclosure statement is available on request at no charge by emailing me.
Physical Address:
72 Totara Street, Taupo 3330
In our customers' words

"We have held a mortgage with NZHL for approximately 16 ½ years, recently making our final instalment, and for the majority of that period Shayne has been our case manager. Shayne's friendly outgoing calm nature ensured every meeting was relaxed and fruitful in terms of where we are at with…" Read More

"We have held a mortgage with NZHL for approximately 16 ½ years, recently making our final instalment, and for the majority of that period Shayne has been our case manager. Shayne's friendly outgoing calm nature ensured every meeting was relaxed and fruitful in terms of where we are at with our home loan, how we are progressing and advice on how to manage the mortgage to meet our ever-changing needs. He has always been clear and concise with his feedback and advice often taking time to ensure we understand what had been discussed in detail, this has been beneficial for us in terms of ensuring clarity and direction. All in all it has been an absolute pleasure working with Shayne and NZHL."

Debbie & Keith Bay of Plenty

"We began our relationship with New Zealand Home Loans, particularly with Shayne Massey in 2006. We wanted to buy a house and dealing the banks was all a bit like marching to the beat of someone else's drum, not our own. From the word go, Shayne made us realise that…" Read More

"We began our relationship with New Zealand Home Loans, particularly with Shayne Massey in 2006. We wanted to buy a house and dealing the banks was all a bit like marching to the beat of someone else's drum, not our own. From the word go, Shayne made us realise that of course we could afford a home, and that we could pay it off without making any changes to the way we lived our lives. Shayne organised everything for us, he kept us informed of what was going on and he was always available to us. He was approachable, non-judgmental and always supportive. New Zealand Home Loans allows us to work our own loan, move money about as we like and make things work for us. If we made a mistake, no worries, it was a phone call to Shayne and he'd fix it, same if we felt worried about anything we'd just phone to make an appointment and Shayne would either happily come to ours or we'd see him at his. The New Zealand Home Loans team as a whole have been fantastic. We've certainly spread the word and I know of at least two friends who have made contact with Shayne, and we're eyeing up another friend to go see him too. Shayne and New Zealand Home Loans have made our journey to being home owners a truly happy one and I am so glad that someone mentioned them to us. Thanks Shayne."

Kaye B & Glen W Bay of Plenty

"Just want to say on behalf of Carl and I thank you so very much for helping us into our first home. You made the process extremely easy and "user-friendly", and we have highly recommended you to a number of people we know."

"Just want to say on behalf of Carl and I thank you so very much for helping us into our first home. You made the process extremely easy and "user-friendly", and we have highly recommended you to a number of people we know."

Sarah & Carl Bay of Plenty