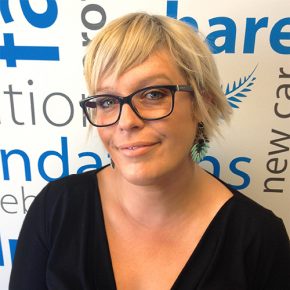 Emm McCartney
Business Owner
Emm was drawn to NZHL when she saw four of her former banking clients switch to NZHL in the space of one month, citing their determination to get debt-free faster. She joined New Zealand Home Loans as a Client Servicing Consultant and was recognised as the company's highest-performer in that role for six consecutive years, from 2006-2012.
In recent years as the Business Owner, she has also been the National Top Business Owner in the annual awards.
In 2017 Emm received the prestigious Chairman's Award for her service and commitment to both her clients, colleagues, and also to NZHL as a brand.
Emm feels that being part of NZHL is more than a job; it is a lifestyle decision and an occupation that you have to be passionate about. She sees her role as more than just reviewing my clients' progress, it is about being part of their lives, as she is the person that they call just to talk about their day. All the best sports champions have sport coaches – and she is her clients' financial coach.
For Emm in her role, the most prized reward is seeing her clients achieve the Milestones that they only thought were dreams and unachievable. Also in celebrating the last month's payment to achieve their Mortgage FREE statues. This can be you too!!
If you would like to achieve financial freedom faster, please give Emm a call today.
A disclosure statement is available on request at no charge by emailing me.
Physical Address:
Unit E/359 Lincoln Road, Addington, Christchurch 8024
2020
Number One Business Owner
In our customers' words

"We started our mortgage with NZHL in 2001, and have found it the most satisfying financial experience ever, with constant catch-ups and information shared. When Emm picked up our account in 2010, and our mortgage really started to reduce, we were so grateful for her constant enthusiasm and encouragement, even…" Read More

"We started our mortgage with NZHL in 2001, and have found it the most satisfying financial experience ever, with constant catch-ups and information shared. When Emm picked up our account in 2010, and our mortgage really started to reduce, we were so grateful for her constant enthusiasm and encouragement, even when we occasionally went 'off-budget'. We would never have been debt-free in this time without an NZHL account and her on-going guidance. Emm is a consummate advocate for NZHL, and is seriously valuable resource to anyone wanting an efficient mortgage plan."

Rob & Frances Canterbury

"They are fantastic at what they do and has made us work harder on achieving our goals that we have set. Emm always makes us feel good about how we are going, even when sometimes we go off track on our budgeting, and she's always supportive and has solutions"

"They are fantastic at what they do and has made us work harder on achieving our goals that we have set. Emm always makes us feel good about how we are going, even when sometimes we go off track on our budgeting, and she's always supportive and has solutions"

Natasha W & Nigel B Canterbury

"We, Praveen and Keshni Lata Kumar have been New Zealand Home Loan clients for the last 9 years. Emm McCartney manages our portfolio. Having had no prior in-depth experience and knowledge on financial management, refinancing and management of mortgages to achieve financial freedom in a shorter time frame than that…" Read More

"We, Praveen and Keshni Lata Kumar have been New Zealand Home Loan clients for the last 9 years. Emm McCartney manages our portfolio. Having had no prior in-depth experience and knowledge on financial management, refinancing and management of mortgages to achieve financial freedom in a shorter time frame than that possible with conventional banks, we made the decision to take the step to place our future and our finances in the hands of New Zealand Home Loans and see where they, and Emm in particular took us. Well, upon joining New Zealand Home Loans, both Keshni and I were completely blown away and utterly impressed by the professionalism, knowledge and personal touch of our advisor Emm in setting up our financial portfolio. Emm was there to assist us and see us through every step of the way when dealing with our solicitor, accountant and her lending team. Through her advice and guidance, we have never looked back ever since and are really proud to say that we are well on our way to financial freedom- we now own two properties, one of which is a rental property. Our own residence will be free of mortgage in about three years, which would not have been possible at all had we still been with a bank. After Emm set up her own franchise of New Zealand Home Loans, we had to wait one year before we could transfer over under her umbrella once again, which we did as soon as one year passed- we would not have it any other way or anyone else to look after us, we have complete faith and trust in her, and by the way, we also enjoy her company, her sense of humour and her personality (along with her manicured nails). It is an absolute pleasure to have a Client Services Advisor like Emily Langridge, and we would like to wish her all the very best."

Praveen & Keshni K Canterbury

"We moved to New Zealand Home Loans in approximately 2008. Without changing our lifestyle we have made more head way in paying off the mortgage than in the whole time we were with the "traditional bank". The service we have had has been first class, nothing is ever a problem.…" Read More

"We moved to New Zealand Home Loans in approximately 2008. Without changing our lifestyle we have made more head way in paying off the mortgage than in the whole time we were with the "traditional bank". The service we have had has been first class, nothing is ever a problem. The annual reviews are great as you can see how you are tracking. Emm has always been willing to help out where she can weather it be sorting out insurance paperwork and going into bat for her clients or recommending accountants, property managers and valuers etc. nothing is ever a problem. She is only ever a phone call or an email away. We are currently building and Emm was only too happy to spend the time going over a range of scenarios with us such as selling, or renting out our current house. She spent hours going over all the figures with us to ensure we were comfortable with going ahead with the build and making different suggestions as to make "our dream" work. I guess we can sum it up when it's the only place that our children are happy to go to a meeting, in fact when they find out we have a meeting the first question asked "is it at Emm's place?" The support that Emm and Terry has given our local football club show their commitment to their local community. The service we get from New Zealand Home Loans we never received from our bank. You've become part of the family and new home."

Janelle & Rhys Henderson Canterbury

"With our current sale and purchase going on it occurred to us that this year marks our 10 year anniversary dealing with you and New Zealand Home Loans. In that period of time, we have bought and sold three houses and now processing the fourth. One of the key points…" Read More

"With our current sale and purchase going on it occurred to us that this year marks our 10 year anniversary dealing with you and New Zealand Home Loans. In that period of time, we have bought and sold three houses and now processing the fourth. One of the key points that we have noted in dealing with you in that time, is that you make the financial process extremely stress free and are able to simplify the 'financial speak' so that the common people like ourselves, can understand it clearly. As you know, we regularly refer family and friends to you and many of them are now your clients and we are able to do this with confidence that they will be advised well. We are so pleased for both you and Terry branching out into your own business and this is just to let you know that we will continue supporting you as clients in the future. Looking forward to another ten years"

Paul & Tracey B Canterbury

"About a year ago my husband and I were starting to feel a bit hopeless with how our home loan was going and were starting to feel we would have our mortgage for many years to come . We had always been quite good at budgeting and not to wasteful…" Read More

"About a year ago my husband and I were starting to feel a bit hopeless with how our home loan was going and were starting to feel we would have our mortgage for many years to come . We had always been quite good at budgeting and not to wasteful with our hard earned money but our mortgage just seemed to not move fast. We decided to contact our adviser for some help to see where we were going wrong. Emm McCartney was brilliant she went through our whole budget with me using the debt nav and creating a plan for us. She then asked to meet in 1 months' time to check how we were going with the budget and to show us with our surplus how to flush out of our working account and pay off a smaller amount in another account with the surplus money. Emm would make appointments with us at the beginning of each month for an ongoing 3 months to keep in touch and keep us accountable to our commitment to wanting to become debt free sooner than later. We have just had our 9 month catch up with her so 1 year on from where we were and we have beaten our target. Emm has relooked at how we are now doing and if we carry on the same we will be debt free in less than 3 years. Whoo. Emm asked us did we feel we had sacrifice much in the year through our new budget and we can honestly say we haven't and what we really noticed was in our relationship we weren't arguing over not seeing the mortgage going down anymore instead we were rejoicing every month and are a lot happier. Less debt definitely makes you happier. We are so wrapped with our adviser and the amount of time she has put into us. We had been with nzhl for over 8 years and yet Emm still gave us so much of her time as if we were new clients She definitely wanted to see nzhl work for us and debt nav is such a great tool. We just can't thank nzhl enough."

Christine & Andrew T Canterbury

"I went to three banks, and then a mortgage broker and they all rejected my loan application. A friend recommended New Zealand Home Loans and suggested they were different. They listened to my unique situation, and took into account factors that the banks rejected. They said yes and that started…" Read More

"I went to three banks, and then a mortgage broker and they all rejected my loan application. A friend recommended New Zealand Home Loans and suggested they were different. They listened to my unique situation, and took into account factors that the banks rejected. They said yes and that started a long term relationship. Now I am rebuilding my house and again the team at the Canterbury Metro branch have listened and shared my vision. We are about to refinance and again, they have made the process painless and stress free, keeping me informed of my position and giving me options, and guiding me. Always I feel like they want me as a client, and they tell me when I could do something better to save money. They work through different scenarios and suggest options and that gives me total confidence in them. When the new house is finished, Emm and the team will be the first on the invite list!"

Neal B Canterbury