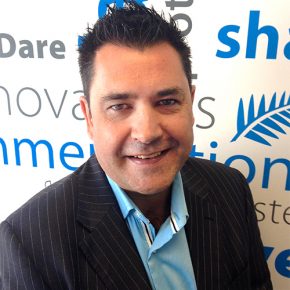 Terry McCartney
Business Owner
You will hear Terry on the radio and also hear from our clients who Terry has helped reduce their mortgages faster.  Terry has 19 years in the financial industry behind him and feels that New Zealand Home Loans works so well because it does not rely on a "hard sell" approach. Instead, clients are able to see the differences NZHL make in individuals' lives and how effectively they can get ahead by paying less interest and reducing their mortgage levels faster. Terry joined the company as a New Business Consultant in 2009 and received "Rookie of the Year".
He is an avid sports fan, supporting the Selwyn United Football Club – Canterbury Metro is their senior partner/sponsor. Originally from Southland, Terry went to boarding school in Oamaru and gained a commerce degree from Otago University.
Being one for seeing people achieve more and gain the freedom from their bank Mortgages so that they can get ahead faster is his driver and knowing that he is changing their lives brings him to your home to show you how you can reduce your Mortgage significantly and gain Financial Wellbeing for Life.
For any further information around reducing your mortgage faster – refinancing or buying your new home give Terry a call.
A disclosure statement is available on request at no charge by emailing me.
Physical Address:
Unit E/359 Lincoln Road, Addington, Christchurch 8024
In our customers' words

"We moved to New Zealand Home Loans in approximately 2008. Without changing our lifestyle we have made more head way in paying off the mortgage than in the whole time we were with the "traditional bank". The service we have had has been first class, nothing is ever a problem.…" Read More

"We moved to New Zealand Home Loans in approximately 2008. Without changing our lifestyle we have made more head way in paying off the mortgage than in the whole time we were with the "traditional bank". The service we have had has been first class, nothing is ever a problem. The annual reviews are great as you can see how you are tracking. Emm has always been willing to help out where she can weather it be sorting out insurance paperwork and going into bat for her clients or recommending accountants, property managers and valuers etc. nothing is ever a problem. She is only ever a phone call or an email away. We are currently building and Emm was only too happy to spend the time going over a range of scenarios with us such as selling, or renting out our current house. She spent hours going over all the figures with us to ensure we were comfortable with going ahead with the build and making different suggestions as to make "our dream" work. I guess we can sum it up when it's the only place that our children are happy to go to a meeting, in fact when they find out we have a meeting the first question asked "is it at Emm's place?" The support that Emm and Terry has given our local football club show their commitment to their local community. The service we get from New Zealand Home Loans we never received from our bank. You've become part of the family and new home."

Janelle & Rhys Henderson Canterbury

"With our current sale and purchase going on it occurred to us that this year marks our 10 year anniversary dealing with you and New Zealand Home Loans. In that period of time, we have bought and sold three houses and now processing the fourth. One of the key points…" Read More

"With our current sale and purchase going on it occurred to us that this year marks our 10 year anniversary dealing with you and New Zealand Home Loans. In that period of time, we have bought and sold three houses and now processing the fourth. One of the key points that we have noted in dealing with you in that time, is that you make the financial process extremely stress free and are able to simplify the 'financial speak' so that the common people like ourselves, can understand it clearly. As you know, we regularly refer family and friends to you and many of them are now your clients and we are able to do this with confidence that they will be advised well. We are so pleased for both you and Terry branching out into your own business and this is just to let you know that we will continue supporting you as clients in the future. Looking forward to another ten years."

Paul & Tracey B Canterbury