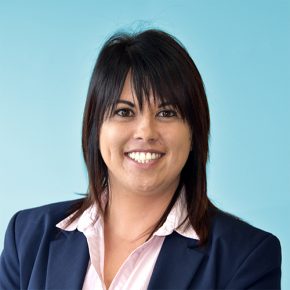 Mariam Erasmus
Business Owner
Mariam came to Albany from her home in Cape Town in 2010. In South Africa, she had worked at Old Mutual and Liberty Life for a term of 10 years specialising in Superannuation Schemes and Insurance. She joined the Auckland East office in July 2011 before becoming Business Owner of the Ellerslie office in 2018. Mariam enjoys her contact with NZHL's clients and thrives on being able to help with their needs and inquiries.
Husband Ameer owns a mechanical workshop in Glenfield while their two children are busy with sport through Albany Primary School and Albany Junior High.
A disclosure statement is available on request at no charge by emailing me.
Physical Address:
4 Pacific Rise, Mount Wellington, Auckland
2018
No. 2 Service - Consultant
In our customers' words

"We have dealt with Mariam and Daryl at NZHL for some years now and they have always been great at answering question, getting us a good deal and working stuff out for us as life circumstances have changed. Recently we bought our second home and Mariam was 'on fire'. Easy…" Read More

"We have dealt with Mariam and Daryl at NZHL for some years now and they have always been great at answering question, getting us a good deal and working stuff out for us as life circumstances have changed. Recently we bought our second home and Mariam was 'on fire'. Easy to contact, fast at getting answers and worked really hard to get us into a home (pushing boundaries and a lot of lateral thinking was needed with Auckland home prices being so crazy). She was always available for us and although she we put some tight timelines and pressure on, she is a trooper and always smiling – Mariam, thanks for getting us into our new home and for your wisdom, support and grit! Totally recommend her and the team as mortgage brokers (and miracle workers)."

Lisa & Grant Auckland

"Mariam at NZ Home Loans has been our broker for a number of years now. She's looked after both our mortgage and our insurance, and has really simplified the process for us while ensuring all our needs are met at the best price. Nothing is too much trouble and Mariam…" Read More

"Mariam at NZ Home Loans has been our broker for a number of years now. She's looked after both our mortgage and our insurance, and has really simplified the process for us while ensuring all our needs are met at the best price. Nothing is too much trouble and Mariam always makes time for us. As odd as it sounds, we always look forward to catching up with her to discuss our finances!"

Fran Auckland

"Mariam has taken care of us for 3 years and has always been available to answer all of our questions and accommodate all of our wishes. Mariam has our trust and respect and has been very patient with all of my questions. We are glad to have Mariam take care…" Read More

"Mariam has taken care of us for 3 years and has always been available to answer all of our questions and accommodate all of our wishes. Mariam has our trust and respect and has been very patient with all of my questions. We are glad to have Mariam take care of all our personal banking and home loans."

Emily Auckland

"Moving over to NZHL has been the best financial decision we have ever made. The process was simple and seamless. Mariam is a true representation of providing excellent service. The one on one support you are given from the team is amazing couldn't ask that from any other mainstream bank.…" Read More

"Moving over to NZHL has been the best financial decision we have ever made. The process was simple and seamless. Mariam is a true representation of providing excellent service. The one on one support you are given from the team is amazing couldn't ask that from any other mainstream bank. I would recommend to anyone contemplating moving over to NZHL – "To make that move""

Tania & Ricky Auckland