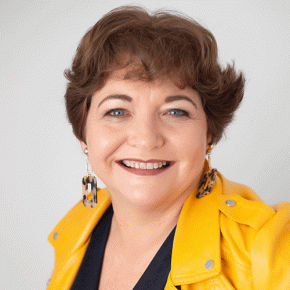 Karen Smart
Business Owner
Karen has been with New Zealand Home Loans since 2007 and, in that period, has already won five awards for her sales and service. A committed and passionate team leader, she has worked in various roles, including as an Administrator, Client Servicing Consultant and Business Owner, giving a strong overview of the needs and requirements of new and existing clients.
Karen spent six years in financial services before joining New Zealand Home Loans and was a founding member of the Venus Network (Wellington North), an organisation that provides professional and personal growth advice.
The mother of two teenagers, she has been involved in their sports (netball, football), childcare centres, kindergartens and Brownies. Now, as they grow up, Karen enjoys swimming, jigsaws, movies and trying new experiences. She lives in Lower Hutt.

A disclosure statement is available on request at no charge by emailing me.
Physical Address:
Chamber of Commerce House, Level 3, Harbour City 15 Daly Street, Lower Hutt 5010
In our customers' words

"We met Karen Smart of NZHL five years ago, with ease Karen become our go to confident and money managing expert. (Easily for us but I'm sure at times Karen was ready to pull her hair out with our slackness with returning paper work!) But since then she has helped…" Read More

"We met Karen Smart of NZHL five years ago, with ease Karen become our go to confident and money managing expert. (Easily for us but I'm sure at times Karen was ready to pull her hair out with our slackness with returning paper work!) But since then she has helped us in many ways! Occasionally Karen knew we needed a nudge to get "back on track" and would guide us and inform us of changes coming up, or the need to address our mortgages & insurances. She also makes a much needed great coffee when at her office. Obviously over these years Karen has watched our family grow and always asks after our children and genuinely shows an interest in us. Karen is a true asset to NZHL, we absolutely recommend her to our friends when they mention time to refinance. Brad's version…….."She's pretty good at that money stuff"

Brad & Bridget Wellington

"When we were purchasing our property we were so thankful to have chosen the Lower Hutt team of New Zealand Home Loans for our mortgage. They have such a friendly, personal service and go out of their way to help you through the purchasing process. When working through the loan…" Read More

"When we were purchasing our property we were so thankful to have chosen the Lower Hutt team of New Zealand Home Loans for our mortgage. They have such a friendly, personal service and go out of their way to help you through the purchasing process. When working through the loan structure options Karen offered very sensible, clear and friendly advice, making sure that we understood all along the way. When it came time to transfer the funds for the property we felt like New Zealand Home Loans were investing with us, and were working in our best interests to make sure we had everything in place for the transaction. With all the complexity that can be involved in a property purchase, we really feel that New Zealand Home Loans offers a fantastic service"

Bruce & Susan Wellington