Kiwis are looking to spend on renovations. That's according to Independent Economist Tony Alexander's November Spending Patterns Survey, which shows more than 30% of respondents are looking to spend more on sprucing up their homes. This isn't a one off. It's been a notable trend in the monthly data post-COVID-19.
This makes sense, given we've had quite a bit of time at home this year to consider what we could improve and that, at the time of writing, we still can't travel abroad, seemingly meaning more time and money to invest at home.
As one of New Zealand's leading home loans providers, we understand how a reno on your home loan could help. Continue reading to learn more.
So how does your reno fit into your home loan?
It might seem like a no brainer to just apply for a top up on your existing mortgage. However, it's also an opportunity to review your whole mortgage structure and ensure you have robust plans in place to service and significantly reduce the interest you pay over the long term.
At NZHL, we think home improvement should go hand in hand with home loan improvement, and that you could potentially improve the efficiency of your mortgage by giving it a reno at the same time.
This is where NZHL's smart home loan structure (which makes the most of your income and savings to reduce the interest you pay), personalised service, and debt management tool (DebtNav) can really come in to play.
One of our Passionately Kiwi consultants will sit down with you to identify your financial goals, including your reno, and make a tailored plan to suit your needs. We'll then check in regularly to help you stay on track!
It is this personalised approach and smart structure that is currently helping NZHL's 20,000+ clients save tens of millions in interest costs per year.
For NZHL, it really is about Kiwis helping Kiwis ("Passionately Kiwi" is one of our values). As a subsidiary of Kiwi Group Holdings, we're 100% NZ-owned, with more than 70 awesome business owners operating teams right across the country.
Sometimes, you need to reno your home loan before you reno your home, ask us how.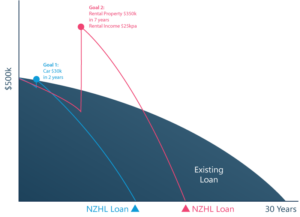 With DebtNav, we can see how additional goals like a new car, a holiday, or a renovation will impact your payment plan. What's important is that we'll be there when these goals arise because we stick with you all the way to financial freedom!
When you work with NZHL, you'll be assigned a consultant who will continue to check-in with you throughout the life of your mortgage. We'll get to know your financial goals and when you want to achieve them, helping you put together a plan and then help you stick to it.
If you decide to reno your home ten years into a twenty-year mortgage, we'll be there to help you develop a plan and achieve financial freedom, as well as a beautifully renovated home, faster! At NZHL, we'll always circle back to your big picture goals and align your evolving payment plan with them to keep you on track.
One to one personalised service, from start to finish
NZHL helps you make the most of your income and savings, minimising your daily interest costs through a process called channelling that can potentially help you achieve financial freedom months or even years ahead of schedule. Our Smart Loan Structure and DebtNav tool are just parts of what make NZHL the top choice for home loans in NZ.
Contact us today to take control of your home loan structure and your financial future!